Getting Started
Clarify your goals, learn what you can build on your property & estimate your project budget.
Think About What You Want and Your Budget
It is important to start by figuring out what you want and your budget. Identify goals and concerns by using our downloadable exercises, look at examples for layout and design inspiration, start to consider how you might finance your ADU, and estimate costs to help set your budget by using our ADU Calculator.
From benefiting your family to generating income and helping the community, learn why fellow Californians decided to build an ADU.
Typically, a studio is 200–400 square feet, a one-bedroom is 300–600 square feet, and a two-bedroom is 600+ square feet.
From benefiting your family to generating income and helping the community, learn why your neighbors built an ADU.
Understand the Timeline for building an ADU
Building an ADU is not only a financial investment, but an investment of time. Most projects take one to two years to complete. It usually takes one to six months (depending on how many rounds of reviews) to get permits and six to twelve months to build. Interior conversions are often faster.

Before moving forward, you'll want to find out what you can build and talk to someone about it.
Look up information about your property using the WebGIS tool.
Review the county's standards here to know what you can build.
Use the downloadable exercises from our Guidebook, like making a sketch of your property, to help you get started.
Now that you have a better idea of what you want to build, bring your sketch in to talk about it with a planner. Talking to the county is free and usually very helpful.
One of the best things you can do is to talk to staff early in the process about potential issues, like water, sewer and other standards that might apply. The county has a planning and zoning counter where you can ask questions without an appointment. They will advise you on how county rules might apply to your proposed ADU and what to consider.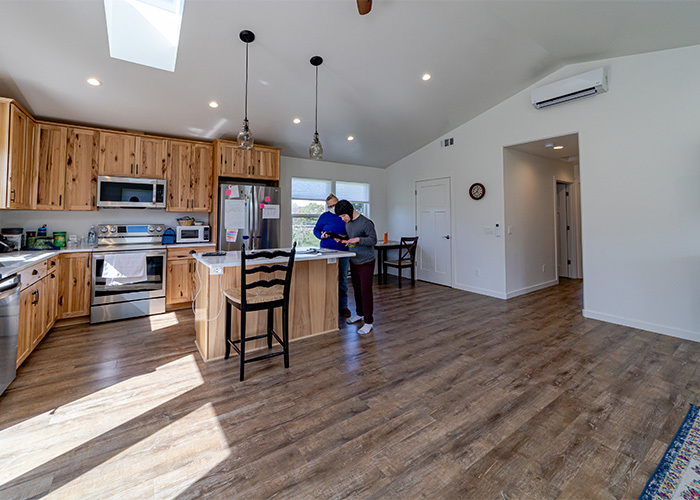 Your budget is one of the most important parts of your ADU project. Assessing your finances early on is recommended before you go to next steps.
The ADU Calculator is a great place to start when developing a budget. It provides a rough estimate of costs and income and will help you understand how choices can impact your budget over time.
In general, it is helpful to avoid having a fixed budget total in your head as you explore your options. Our Guidebook also has additional information to help you with this step.
Hire a Team and Decide on an Approach: Site Built or Prefab
we recommend hiring a licensed architect or designer to design your ADU and a licensed builder to construct it, or a design/build team for the entire process. However, Humboldt County does have an Alternative Owner-Builder (AOB) Program, which is especially appealing to those living in rural areas. Generally, it is better to have a professional on your side to guide you however you proceed throughout the permitting process. The county also developed the AOB building process overview which provides more information on AOB Residences

There are two major approaches for building an ADU
Site Build
The traditional process, with construction happening on-site.
Prefab
An option with some or most of the construction happening off-site.